Types of Deck, Balcony and Porch Railing Systems - Today's Top OptionsThere are countless deck railing, porch railing and balcony railing options available in today's market. There are as many options available as there are types of houses. Railings come in different sizes, shapes and compositions. They may protect your balcony and keep you safe, enhance your deck or front porch setting of your home or prevent spills when walking down the stairs. Following please find a breakdown of each type of system and the many variations that can be purchased each having their own set of pros and cons. You can be as creative as you like but always keep in mind the security risks that can be avoided if you stick with a system that has strength and integrity of construction. This informative piece is backed by twenty-five years of industry experience and provides you with a brief overview of each product.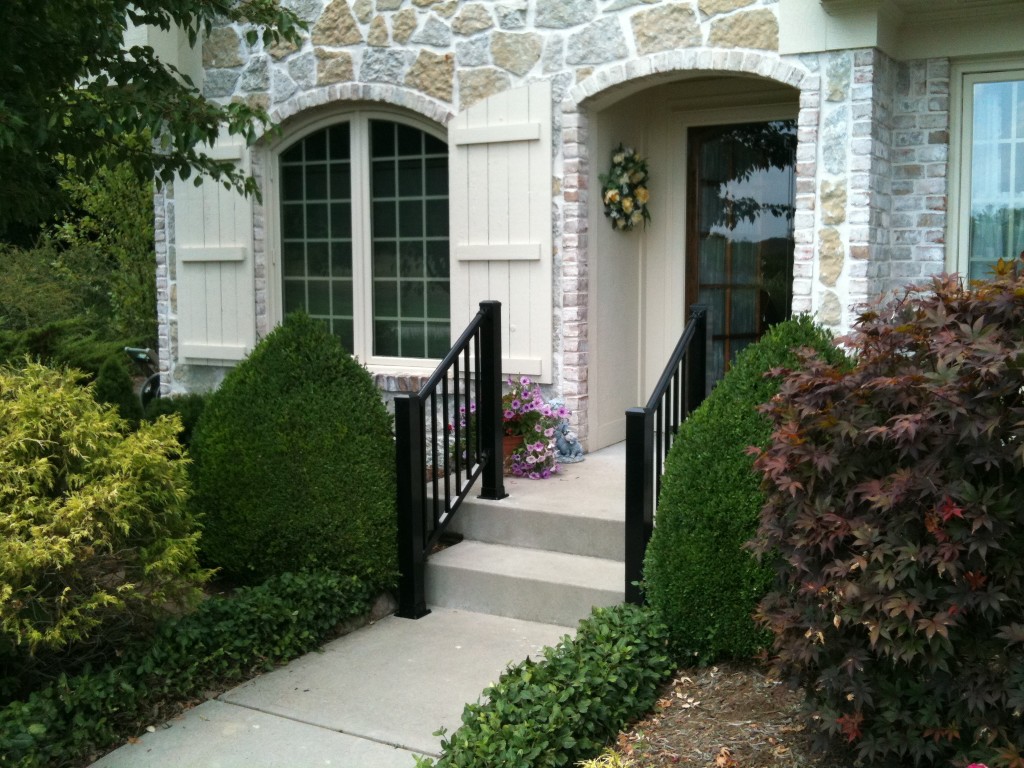 1. Wood Railing:  A popular selection for over 30 years because wood is affordable and less expensive than vinyl, aluminum, steel and wrought iron railing systems.
Pro: Very affordable option with numerous spindle and rail possibilities. Wood systems can easily be customized and stained or painted to match any surrounding landscape.
Con: Wood properties breakdown with age and splintering, warping, cupping, swelling, warp and decay can become a problem. This system requires a great deal of maintenance. Depending on the setting moisture, sunlight and other environmental factors wood may even speed up the process of weathering on this selection.
2. Aluminum Railing: An easy way to add style and elegance to any project. Aluminum Railing is the "go to" product of the future! Aluminum porch railing, balcony railing and deck railing has gained steam against the competition due to its simple elegance and no maintenance characteristics. View our selection at: https://www.fence-depot.com/fence/deck-railing/
Pro: This product comes with lifetime warranties and is competitively priced. There are numerous styles and options for top rail and spindle selections. Aluminum Railing comes in a variety of colors with custom paint options available. This product is able to withstand all weather elements and is sturdy in construction.
Con: Due to the size of the profiles this railing is not as easy to customize as other railing designs.
3. Vinyl Railing:  Attractive and durable solution for many railing applications.
Pro: Constructed of high impact PVCVinyl Railing systems are virtually maintenance free. The UV stabilized high impact Polyvinyl Chloride can withstand outdoor weathering and comes in 4 basic colors.
Con: There is an upcharge for colors other than white. Watch out for cheaply made Pvc Railing as they have thinner walls and require costly metal inserts for increasing the stability of this product. Beware of recycled materials that may be inferior and may not be safe for certain support situations.
 4. Steel/Wrought Iron Railing: These beautiful systems are decorative and easily customized. They come with a manufacturer's 10 year warranty.
Pro: The thinner profiles allow for the back drop to be the focus and not the railing. Steel Railings can be as ornate as you want because it is fairly simple to add scrolls or decorative elements to the original design.
Con: Due to the composition of this metal a steel railing system may require maintenance for rust and corrosion. Not recommended for use by salt water or areas where there may be heavy snow and ice requiring extreme salt conditions.
Fence-depot.com has compiled this information for our customers using our 25+ years of industry experience and technical expertise. We only carry the top brands of balcony, deck railing and porch rail systems that have been field tested by our company.
We buy in volume and pass our discounts on to you. Our award winning customer service is here for you anytime you need advice or help in making the right decision for you're Railing Projects.  Please visit our site, call #1-800-760-5170 or email your drawing to Jason@fence-depot.com if we may be of help to you. No question or project is too big or small for our fence professionals.
If your looking for matching Aluminum Fence  click here for all of our aluminum fences, residential, commercial and industrial.
https://www.fence-depot.com/fence/aluminum-fence/