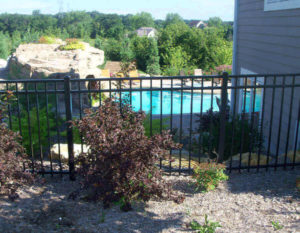 Before you spend all of that hard earned money on your dream pool and fence combination, there are a few things that you should know. Listed below are some helpful hints to help you plan your project and keep you from potential hazardous situations and/or violations.
1) Check local pool & fence codes.
Call or pay a visit to your local building department to get up to date information on your local city, township, or village codes. Codes are regulations or rules which govern specific situations. In this case ask specifically for the codes required for pool fence installations.
2) Obtain a property survey.
Obtain a recent survey of your property so that you have knowledge of the exact property and lot lines. If a survey is not within your budget, then look for city records of your property or review the papers that accompany your mortgage loan to locate your plat map. Keep in mind that there are disclaimers on most plat maps that the measurements referenced may be plus or minus footage.
3) Coordinate, develop, and design your plans with the pool, fence, and landscape professionals to accommodate your codes, your vision, and current safety regulations.
Work side-by-side with the contractors you hire to develop your pool, landscape, and fence plan. For this portion of your project you will utilize the survey and code information you have obtained. For those of you who live in a development, check to see if your homeowners association has any other codes or guidelines which you will need to follow. Remember to check and see if you need their approval prior to moving forward with your project. When laying-out your landscape plan pay close attention to any setback rules which your city may recommend. The distance from your property lines to the placement of your pool or fence structures is usually referred to as the setback.
4) Obtain a permit for your pool fence project.
For your protection the contractors you hire should be responsible for this portion of your check list. Now that your project has been well thought out and planned, make sure that the pool and fence contractor pull the permits necessary for your job. Be leery of the contractor who is too busy to pull permits! For your own protection it is best that the contractors pull all permits. This measure will also protect you from choosing a contractor who is not allowed to work in your city due to previous violations or poor work ethic.
5) Seek outside resources for pool fence code information if your city has no specific ordinance in place.
If current codes are vague, here are a couple of agencies which can help you in your search for pool codes governing pool and spa safety.
BOCA National Building Code (Building Officials and Code Administrators International Inc.)
This nonprofit agency has members who span the building community from code enforcement officials to materials manufacturers. These officials have developed strict guidelines for safety of outdoor, indoor, private, and public pool, hot tub, and spa settings. They have set the standard for model codes in the aforementioned areas. Refer to section 421.10 for enclosures for private swimming pools, spas, and hot tubs.
The National Spa and Pool Institute (NSPI)
This organization offers industry professionals education and technical training/certifications for the safe construction, design, and installation of pool and spa products. It also promotes the accepted standards in the industry.

6) Search for fences which are specifically designed to accommodate pool safety codes and regulations.
Following please find fencing options which meet and/or exceed the BOCA pool fence codes referenced in this article.
All fence heights meet boca pool code requirements. See your area building code authority for local compliance.
Following please find the styles we sell which meet BOCA pool fence codes:
A. Vinyl fencing products by Bufftech:
* 4'H, 5'H & 6'H Baron
*4'H, 5'H & 6'H Countess
*4'H, 5'H & 6'H Monarch
*4'H, 5'H & 6'H Princeton
*All Privacy Styles
* RPPF 10 4.5' High
* RPPF 20 4.5' High
C. Ornamental Aluminum Pool Fence:
* 4.5'H Storrs BOCA
* 4'H Derby BOCA
7) Select the appropriate gate closures to meet code.
To meet pool codes, all gates must have self-closing, self-latching hardware. When installed properly, this hardware will enable the gate to automatically close behind those entering or exiting the pool area.
To learn more about swimming pool fencing go to https://www.fence-depot.com/swimming-pool-safety-fence-guide/?blog=cat