At Fence-Depot, all of our aluminum fences are top of the line. They all have impressive durability and strength with a beautifully sleek appearance. There are also a variety of heights, styles and colors to choose from. They are maintenance free and come with a lifetime warranty, and are sure to add curb appeal and style to any property. The real question for those who need a stronger fence is what grade will suit their individual needs: a commercial aluminum fence or an industrial aluminum fence? The information below should help you through this decision; however, if you still have questions, please feel free to give us a call at (800) 760-5170 to speak to a fencing specialist about your specific project.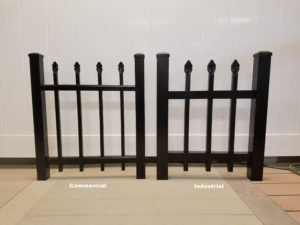 Commercial Aluminum Fence
Commercial aluminum fence systems are a great option for those who need more strength than the residential grade. The vertical pickets and horizontal rails are just slightly larger than the lighter weight residential, but with greater power and durability, ideal for security fences. These fences are offered in greater heights with wider paneling sizes. Ideal applications for these are residences with greater security needs, coffee shops, dog parks, schools, apartment complexes, shopping centers, factories, cemeteries, or worship buildings.
Industrial Aluminum Fence
All of our Industrial aluminum fencing systems boasts the heaviest gauge aluminum extrusions for marked visibility and impressive appearance. These fences are the absolute strongest, most enduring on the market. They are perfect for industrial complexes, high traffic public areas, or any areas that require more strength and security than a commercial aluminum fence. Industrial grade fences are the appropriate selections for municipal buildings, schools, dog parks, airports, or buildings with serious security concerns.
Fence-Depot is committed to providing you with the most helpful information and support during the process of buying your new fence. We're knowledgeable about just about any ornamental fence application and are happy to assist you with your questions. Call one of our fence professionals today at (800) 760-5170 or email us at sales@fence-depot.com.