Which is better?
    An aluminum fence is a very attractive and versatile fence system.  It provides the same look as a traditional wrought iron fence but is maintenance free with a limited lifetime warranty.  Aluminum fencing systems can serve many functions.  This type of fence can be the perfect choice for residential, commercial and industrial applications.  They can be used in residential settings to surround a pool or keep the kids or pets safe; they can provide a decorative barrier for an outdoor patio at a restaurant, or they could provide security for a manufacturing facility or apartment complex.  All of this functionality is available in multiple styles, heights and colors.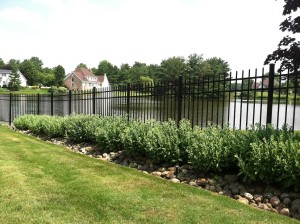 At Fence-Depot.com, we ship our aluminum fence straight from the manufacturer to the customer.  We can ship to a residential address or a commercial address.  One of the most common questions we receive from customers about aluminum fencing is "are the fence sections shipped assembled or unassembled"?  Shipping the fence assembled means that each fence section is ready to be installed onto the posts right out of the box.  All of our pricing is for assembled sections.  If the fence is unassembled each fence section must be screwed together first before installation onto the posts.  A residential grade aluminum fence section is typically made up of 15 vertical pickets and 3 horizontal rails.  A screw needs to be placed at every location where the vertical picket meets the horizontal rail.  This means that there would be 45 screws for every 1 section!
    If you are ordering an aluminum fence for your yard and plan to do the installation yourself, we highly recommend that you order assembled fence sections.  This will eliminate a tedious and time consuming step.  The quality of the product will also be better because the fence sections are powder coated after assembly.  Painting after assembly creates an extra bonding of the screws to the fence panels.
    There is, however, one instance when shipping the fence sections unassembled makes a lot of sense.  We do recommend shipping the fence unassembled when ordering less than 5 sections.  Shipping in this manner allows you to keep freight costs down.  When fence sections are shipped assembled, they must be shipped by common carrier.  That cost is usually a minimum of $200.  By shipping unassembled, the packaging is small enough to be shipped by UPS Ground.  This would keep the shipping cost to around $100 or less.
    It's not easy to know all of the little details that go into buying an aluminum fence and installing it yourself.  There's more to know than most people realize.  But Fence-Depot.com makes it easier.  Our parent company, R&T Fence Inc., has been a family owned business serving the Northeast Ohio area for over 25 years.  We install all of the products we sell.  We share this knowledge with you so your self-installation project goes smoothly and the finished project can be something you are proud of.  Please call us at (800) 760-5170 and one of our friendly, professional and knowledgeable representatives will gladly answer your questions and help you determine all of the specifics needed to make your fence project turn out great.