Fence-depot.com prides itself  in offering our customers the very best products on the market. This is why we have chosen Specrail as our primary aluminum fence manufacturer.  Not only does Specrail strive to manufacture the highest quality product at a competitive price, they also provide both their customers and distributors with a team of knowledgeable customer service agents. Being in the fence installation business for over 25 years, Fence -Depot has worked with a number of top manufacturers. We have found Specrail offers a superior product, with a wide variety of colors, styles and grades. Specrail also offers a limited lifetime warranty on a product that is 100% maintenance free. These are just some of the reasons our local installation company chooses to install Specrail brand fence systems.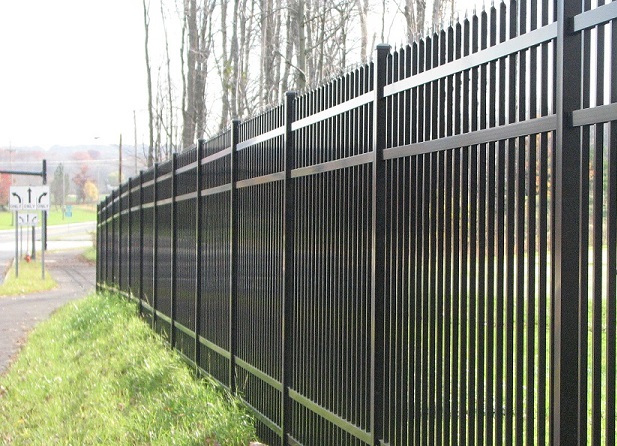 Top 3 reasons why Specrail is the leader in the aluminum fencing industry
1).  Specrail as a Company . . .
SPECRAIL, a division of Porcelen, LTD. CT. LLC, manufactures the most comprehensive choice of aluminum ornamental picket fencing systems to suit the discriminating needs of todays design professionals. Specrail is a pioneer in the industry with 48 years of experience in manufacturing and finishing of aluminum construction products. They have enjoyed a leadership role within the industry that has been earned through providing the most styles and grades, while offering function, quality and durability of the highest standard. All of Specrails products are manufactured in their 180,000 square foot plant located in Hamden, Connecticut and includes complete state of the art fabrication and finishing facilities.

2).  Quality of the Material and Finish . . .
Although all aluminum fencing may seem the same, there is much more to a quality aluminum fence than what you notice on the surface. The two main components that contribute to the manufacturing cost are the strength of the alloy used for the horizontal rails of the fence and the type of finish applied. Being in business 48 years, Specrail knows what it takes to make a quality product. They use a 6105-T5-35,000 PSI alloy that is one of the strongest in the industry. For the finish they choose to use an environmentally approved high-solids acrylic paint finish, trade named POLYCOLOR® which meets AAMA 603.8 specifications. This is the same type of finish you will see on current automobiles, commercial window frames, hotel railings, and even the automatic doors at your local Wal-Mart. It comes with a lifetime warranty against rusting, cracking, chipping, and peeling.
3).  Innovators in the Industry... One thing that sets Specrail apart from its competition is the way they listen to their customers. With feedback from its dealer network and end users they have invented new products lines such as load bearing aluminum railing, aluminum privacy fence, and aluminum arbors to name a few. All these products are made to compliment their aluminum fencing and meet their prospective goals whether it be safety, privacy, or just to dress up their fence line. Another step Specrail has taken to meet their customers needs is to implement a quick ship program, they understand their are certain times where you need a fence fast and can't wait the standard 2-3 week lead times. Now you can get 48 inch tall Bennington and Saybrook along with 54 inch tall Storrs guaranteed to ship within 5 business days. Not many fence manufactures are able to offer this because of the added cost of inventory. Specrail is able to do so, and at the same price!
Specrail is dedicated to manufacturing the best products for their customers and distributors, while still providing their aluminum fencing at a reasonable price. Whether you're looking for a perfect addition to a decorative landscape, add an attractive pool barrier or provide additional security to your property, Specrail is willing to take the necessary steps to provide their customers with the highest quality product on the market. Our installation company chooses to install Specrail for our local customers because of its superior quality. That's what makes Fence-depot so confident that Specrailis the right product for you!
Click on the following link to view all of our Specrail Aluminum Fence Styles : https://www.fence-depot.com/products-aluminum-fence/