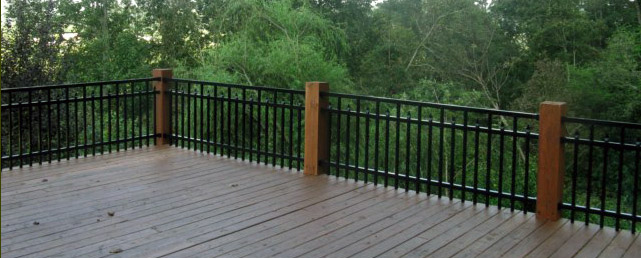 Many customers ask if aluminum fencing can be used as a balcony railing system or as a deck railing system. Let's get right to the point, absolutely not!  The fences are designed to be used as fencing only.
Even though there are four different grades of aluminum fencing available: 1) residential, 2) residential wide. 3) commercial, and 4) industrial grade aluminum fencing these products are only approved for fence use.  They have not been tested to be used as railing and therefore are not approved or warranted for such use.
Railing systems are an entirely different beast although they look very similar to fencing. Only a trained professional can really tell the difference, but when it comes to safety you should never attempt to cut corners.
Fence-depot.com offers an aluminum deck/porch railing product that is strong enough and has the required spacing between pickets to be used on your second story deck or balcony. Don't be fooled into thinking that residential grade fence is safe enough to be used on your deck just because it look similar.  The horizontal rails and vertical pickets on a fence are smaller and thinner than what they would be for a deck railing.
Don't hesitate to call us at 1-(800)760-5170 with any questions or for more information regarding our aluminum deck/porch railing.