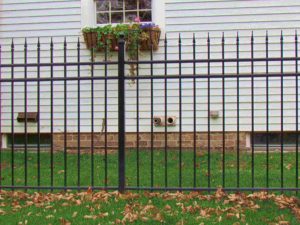 At Fence Depot, we offer a wide selection of decorative aluminum fence designs that are sure to look amazing no matter what style or vision you have for your yard. Both Specrail and Aluminum Fence Supply have many unique models that look wonderful on their own, but can also be customized in various ways, such as with different colors or picket tops, as well as with a puppy picketing modification, perfect for small pets.
Picket top fences provide an extra degree of security and flare, and thus are very popular in decorative aluminum fence designs. For someone seeking the timeless appeal of a classic picket fence, the Bennington, Falcon, Ravenna, or Aurora models would all be wonderful choices, depending on how much picket spacing you desire. For those who love picket tops, but want a unique twist to the standard look, Fence Depot offers several standard decorative aluminum fence designs with picket tops at alternating heights that can each be further customized. The Berkshire, Newport, Citadel, Hiram, or Kent models all offer such distinguishing alternating picket heights.
Picket tops are not for everyone. Many people find flat top decorative aluminum fence designs with a smooth rail appealing for a variety of reasons. Some prefer it aesthetically, while others enjoy being able to rest their hands or drinks on a smooth surface. In either case, Fence Depot has a wide array of options. For a standard top rail, Fence Depot's Saybrook, Horizon, Storrs, Derby, Auburn, Solon, or Hudson models are all great choices. The differences range from picket spacing to an optional third rail, but each model is very simple, ensuring the emphasis stays on your property. For those looking for more intricate decorative aluminum fence designs that maintain a flat top, the Essex, Windham, and Tallmadge fences all have beautiful picket tops that are then covered by a flat top rail.
Finally, if you still have not found what you are looking for, the Mogadore and Mantua fences are extremely charming fences with round tops. Clearly, Fence Depot offers so many decorative aluminum fence designs that no matter what look you hope to achieve, we will be able to accommodate! To see all of our Aluminum Fencing models click here.
Read this great article to help you choose the right Aluminum fencing.
Buying Aluminum fence for your pets? Here is what you should know!